Virtual Stands
Although there is a page on Virtual Stands within the section on Virtual Events, Virtual Stands offer much more than being just a feature of 3rd party events. - Virtual Stands can be a powerful addition to a company's online presence - complementing the company's website, not competing with it.
Here is a Virtual Stand, prior to being personalised::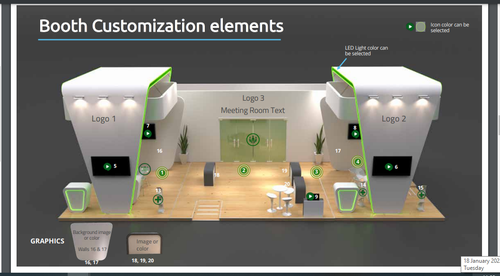 They are:
Fully featured* - with multiple communication channels, downloadable documents, video links.
Really easy to tailor and update**.
Quick to download.
Inexpensive.
Here is an example of what your Virtual Stand could look like: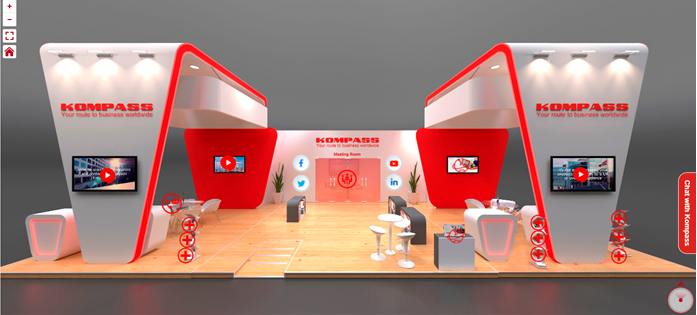 or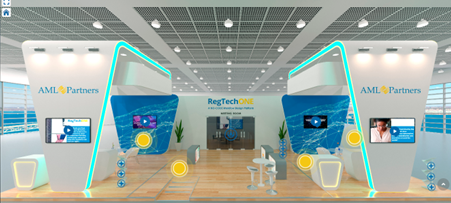 The Virtual Stand is completely portable - the link provided can be used to embed the stand into any online environment e.g.
On your own website.
With your email signature.
On your Social Media Profiles.
In any Live Event conference that hosts links to Virtual Booths.
---
How to Use the Virtual Stand outside of an external Virtual Event?
The Stands can be adapted for internal events as well as external, for example:
Product Launches.
Press Releases.
Recruitment Drives.
Sales Meetings.
Shareholder Meetings.
Supplier Presentations.
User Group Meetings.
Using the passive information areas (where documents, files and videos can be easily accessed - as well as booking one-to-one meetings) provides valuable support for the dynamic communication sessions in the Meeting Room.
The ease of tailoring and adapting the Virtual Stand - no technical support needed - makes them a highly flexible resource for your communications program. - You can choose to use different video communication services within the Meeting Room as appropriate for the type of meeting or conference being held.
---
How do Virtual Stands complement Company Websites?
Although they have a similar task: communication, they present different channels with a different focus. In synthesis:
Websites: Information has to be suitable for any potential visitor. Therefore, the nature of this information has to be wide-ranging and - unless chatbot services are available - is passive. Significant updates to websites tend to be infrequent.
Virtual Stands: Information is tailored to visitors who are invited to visit the Virtual Stand. The prime purpose of the Virtual Stands is to stimulate live communication - either one-to-one conversations or conference participation. The content will be adapted for each event (not requiring any technical support).
They should also support each other by providing reciprocal links.
---
*The TTS Virtual Stand is fully featured with:
Up to 9 Documents (brochures, price lists, manuals etc. - maximum weight 10 Mb per document).
Up to 4 Videos promoting your company.
Meet Us - Visitors can connect to your representatives; showing: Name, Position, Profile Picture, Welcome Message, Contact Info (email, phone ....): With "Send Message" and "Schedule Meeting" buttons.
Meeting Room: Access to your Virtual Meeting Room to host virtual meetings, webinars, online training (using MS Teams, Zoom, Google Meet, JITSI etc.)
---
**Your Virtual Stand can be customised with:
Your corporate colours, logos, graphics and straplines.
Headline Texts.
Links to your website.
Links to your Social Media profiles.
You can also integrate your chatbot into the Virtual Stand.
---
Our pricing plan allows you to personally configure the Virtual Stand - free of charge - before you decide whether to subscribe or not. (So You Can See Before you Subscribe.)
If you think the stand could be of interest, just drop us a line and we'll get back to you with details - including how you can have the free no-obligation trial.
---