The $500 billion global freight market transports nearly everything we eat, wear, and use around the world. Unfortunately, international shipping remains almost completely offline. This means that our everyday products cost more, and arrive later than they should.
Using a combination of breakthrough technology, data, and a platform that spans thousands of global logistics providers, importers, airlines, ocean liners, and leading tech players, the Freightos Group business units – Freightos.com, WebCargo, and Freightos Data – are making global trade smoother.
Looking for the perfect freight solution? Compare, book and manage freight seamlessly across 45+ providers: - get an instant quote.
The average importer spends over two hours managing every single shipment. Gain control without wasting time with shockingly easy logistics management. One easy interface for on-demand tracking and live updates across any freight forwarder, together with proactive exception resolution from providers you can trust.
By pairing technology with proven logistics providers, Freightos.com takes the pain out of freight. Effortless document management, seamlessly managed across multiple providers, in-line communication with logistics providers and customs brokers, and an on-demand team of experts is their recipe for keeping over 10,000 importers and exporters happy.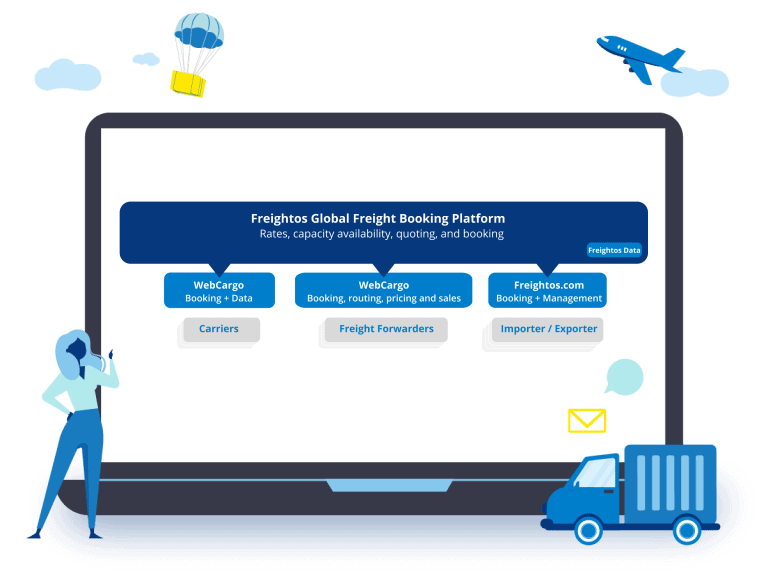 For more information to see how Freightos® can help you - check out the following:
For transparent industry data see: Freightos Baltic Index (FBX): Global Container Freight Index.
---